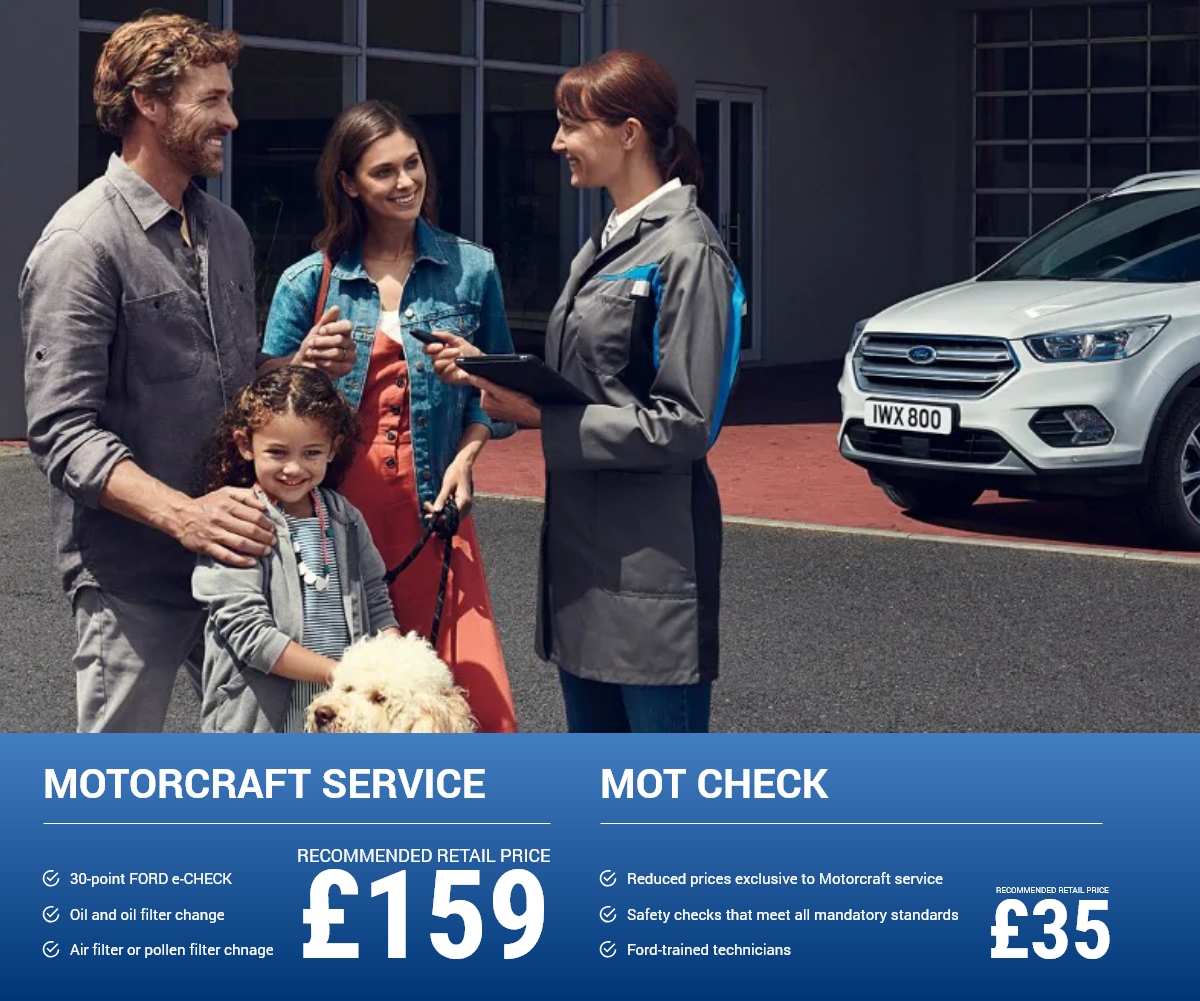 Motorcraft Servicing at Leesons Garage
Great service at attractive prices
SERVICE FROM JUST RRP £149 | TYRES FROM JUST £35.95
MOT TEST FROM JUST RRP £35 | BATTERY REPLACEMENT FROM JUST £63.99
From servicing and repairs to MOTs and tyres, you will find everything you need at Ford Motorcraft. Specially designed for older vehicles, it offers pricing inclusive of parts, labour and VAT, as well as a warranty on parts and labour. Plus, your car will be looked after by Ford professionals using the latest equipment and Ford quality parts.
Ford Motorcraft Service:
30-point FORD eCHECK
Oil and filter change
Wheels off brake check
Air or pollen filter change
Free wash and vac
Book your service online
If your car is over three years old it must undergo an annual Ministry of Transport (MOT) test to ensure it meets legally set road safety and environmental standards. When your Ford is due for this compulsory test, one of the best places to bring it is your local Ford Dealer.
Ford Motorcraft MOT
for just RRP £30 with a Motorcraft service (or RRP £35 without a Motorcraft service)
FORD MOTORCRAFT Tyre Offers
The right tyres for your Ford, the right price for you.
The best place to get new tyres for your vehicle is your local Ford Dealer. Our specialists will provide you with the best advice, and will guide you in choosing the right tyre for your vehicle. We offer brand names at attractive prices and check all components during the course of the tyre fitting. Prices include VAT, standard valve, balance, disposal and fitting.
Find the right tyre sizes and options for your Ford.
FORD MOTORCRAFT Repairs
Ford Motorcraft servicing, MOT, tyres and repairs are available at participating FordDealers for Ford passenger cars and commercial vehicles aged 4 years or older (from date of registration) with up to and including 2.5L engines and are applicable to retail customers only. All published prices are recommended retail prices and include parts, labour and VAT. RS models and LPG derivatives are excluded.
All Ford Motorcraft servicing, MOT, tyres and repairs qualify for a local price match guarantee. If the price of any like-for-like job is lower than that of the Dealer's listed prices or the recommended retail prices within a 5 mile radius of the relevant participating Ford Dealer, the price will be matched. An alternative quotation must be provided by the customer either before the work has been undertaken by the Ford Dealer or within 14 days of the repair being carried out. The lower price will be matched, providing the customer can produce a written quotation for an identical job, including genuine Ford-supplied parts, from a repairer who is subscribed to the Motor Industry Code of Practice, within a 5-mile radius of the Ford Dealer. In all cases, the participating Ford Dealer reserves the right to check and validate the qualifying quotation and to refuse any claims under these conditions which they reasonably believe do not meet the eligibility conditions.